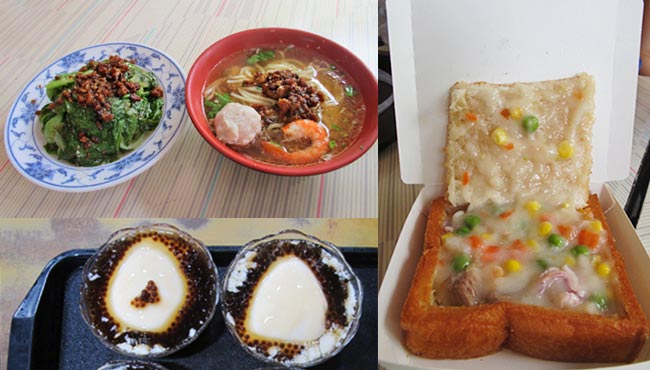 The Tainan Shortlist
It's hot, humid, and maybe not so quiet. But people from all over Asia clamor to visit Taiwan throughout the year. For what? The food, if nothing else! Street food culture runs strong throughout Southeast Asia, and nowhere so much as in Taiwan. Here, mouthwatering eats can be found virtually everywhere at low, low prices. The southern city of Tainan is one of the most popular destinations for foodies and arguably the hometown of Taiwanese street food.
When you visit Taiwan as often as we do, you start to develop a sense for what's good and what's not. However, I took several shortcuts to begin with by hanging out with fellow musicians from our symphony who grew up on the island. After all, locals will show you the good stuff!
Getting a taste of Taiwan means sampling all the snacks (小吃 xiǎo chī) that different cities have to offer. Courtesy of between-show adventures during last season's Shen Yun Symphony Orchestra tour, I'd like to share some of our favorite eats from Tainan.
Scratch that. These are MY favorites. Just mine.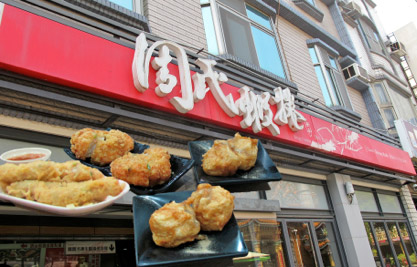 First Bite: Shrimp Rolls
Chou's Shrimp Rolls in Anping Old District features one of Tainan's famous specialties: the shrimp roll (蝦捲 xiā juǎn). The Chou family has been deep-frying their secret recipe for generations. Shrimp products are found all over Anping Old District in many forms, from the catch of the day to crispy crackers sold by the bushel. At Chou's, fresh shrimp is rolled and fried in savory dough and served with a signature dipping sauce.
In addition to its best-selling shrimp roll, the establishment is also a must-stop for seafood croquettes and takoyaki (a deep-fried ball-shaped snack with octopus, originating in Japan and popular in Taiwan).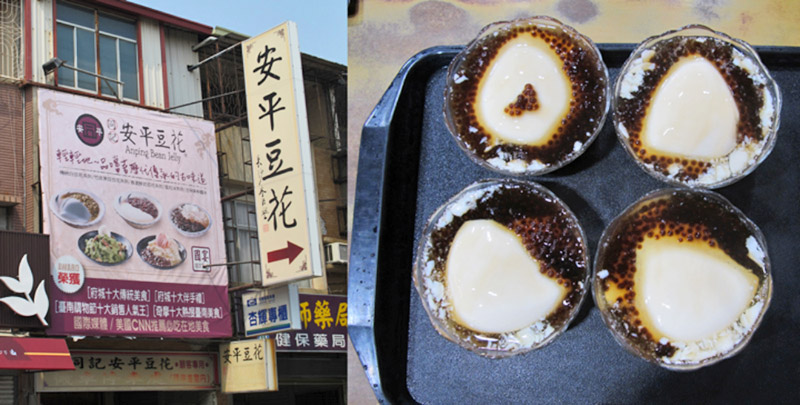 Second Bite: Anping Bean Jelly
Just a short drive away, Anping Bean Jelly (安平豆花 ān píng dòu huā) is famous for serving silky, melt-in-your-mouth tofu pudding. Word-for-word, the Chinese term dòu huā (豆花) means "soybean flower". The recipe at this storied establishment has been in the family since the Qing Dynasty (1644−1912). So happens that an ancestor saved the life of a master chef and received this recipe as thanks. This family business started as a pushcart in Anping District before upgrading to its present-day location.
We tried our dessert served cold and topped with brown sugar syrup and tiny tapioca bubbles. You can also get it with red bean, taro, and even shaved ice. It was a sweet remedy for the sweltering heat of southern Taiwan!

Third Bite: Danzai Noodles
Danzai Noodles (担仔麵 dàn zǎi miàn) is one of Taiwan's most famous eats. The dish itself doesn't look that fancy, but choose the right restaurant and the taste can be heavenly. Popular with tourists and locals alike, noodles at Du Xiao Yue (度小月) are cooked in seafood broth to a chewy perfection. This restaurant got its start in the early 1900s, when the family that still runs it today began selling noodles on the street.
To be honest, my group was somewhat underwhelmed by the small bowl of noodles. But that may be due to the sheer amount of amazing noodles sold everywhere throughout Taiwan. Danzai noodles are now found all over the island, but this restaurant is a must-stop for the traditionalists out there. To be sure, we musicians were more interested in the next feature…
Last Bite: Green Onion Pancake
Finally, let's stop at Tainan's biggest night market: Flower Night Market (花園夜市 huā yuán yè shì). The myriad of night market foods goes on and on, so I'll highlight just one: green onion pancake (蔥油餅 cōng yóu bing) or scallion pancake. Another simple snack, these are scallions rolled into savory dough almost paper-thin, then pan-fried to create the ultimate Chinese comfort food.
Although this is also found all over Taiwan and in Chinese communities worldwide, I remember the Tainan night market's because of a happy accident: we blindly joined one of the many long, winding lines at the night market and ended up waiting for 45 minutes! With that many locals lining up, we figured it'd be something awesome. And we were right. Like much of Taiwan, that pan-fried goodness was unforgettable.
Shen Yun has been performing in Taiwan for 10 years now. Every time I visit, the trip becomes a journey of discovery (because I don't live there) and shared excitement (because I love seeing friends anticipating performing in their hometown). Performing around the world is exhilarating because of all there is to learn and explore. Through our performance, we share something new with the audience, who in turn share something new with us.
Shen Yun New York Company has just completed a month-long tour of Taiwan. See when Shen Yun is coming to your city: check show schedule.

23. Březen 2017