Dancing Above the Clouds: Shen Yun's Miranda Zhou-Galati
BY THE EPOCH TIMES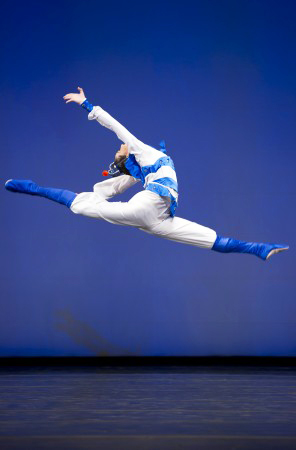 Gentle and charming, sweet and refined, Torontonian Miranda Zhou-Galati is nothing short of divine on stage. For the lead dancer with Shen Yun Performing Arts, the arduous training and steadfast determination that led to her accomplishments make her story all the more inspiring.
Zhou-Galati grew up under the watchful eye of her Chinese mother and the stern protection of her Italian father.
The graduate of Palmerston Public School and King Edward Public School remembers being bad-tempered and having little confidence as a young girl.
"When I was young, I was chubby and had no neck and no waist. My mom called me 'little chubby,'" she said.
But the chubby little girl had a natural inclination for sports and found joy in gymnastics. Her father took her to the University of Toronto for classes for over two years.
It was when her mother enrolled her at the Lotus Art Performance Group in Toronto that Zhou-Galati began learning classical Chinese dance.
She was the youngest student at Lotus Art at the time, with a shy personality and no experience in classical Chinese dance, but she never had any thought of giving up.
On the contrary, she was deeply attracted to the art form's pure beauty and grand profundity. Starting this training became a turning point that connected her with an important part of her heritage as well as with her gift and her calling in life.
"This art form is really special and has a lot of inner meaning. It truly shows the upright manner of Chinese culture," Zhou-Galati said.
"The profoundness and completeness of Chinese classical dance can display perfectly many wonderful stories from Chinese history, like in the dances 'Splitting the Mountain,' 'Monkey King Outwits Pigsy,' and others. It is very meaningful and very interesting."
Passed down from ancient China, classical Chinese dance embodies the ethnic character of the Chinese people and includes a vast number of movements capable of depicting any character, setting, or story drawn from the Middle Kingdom's 5,000 years of civilization.
'You Need to Work on Your Heart'
Learning classical Chinese dance opened a world of opportunity for Zhou-Galati to deepen her appreciation of Chinese history and culture, and she soon became a dedicated student.
One of her teachers at Lotus Art recalled one time when the young dancer was experiencing extreme pain in her spine and even had trouble sitting. But she didn't give up and continued practicing challenging jumps during long hours of training. She persisted even with tears in her eyes.
"An average student would not be able to handle such pain, but Miranda has a very strong will," said teacher Zhang Tiejun.
What made Zhou-Galati persevere? "You need to work on your heart. Start from your heart to make a change, to become an even better person," she said.
She said she used to have an ill temper and would not accept criticism, but she has put that behind her.
"Now I understand the principle of 'the appearance stems from the mind.' For example, if there is anger in your heart, it will show in your dance movements. You need to accept criticism in order to get better, because there will always be a higher standard."
In classical Chinese dance, along with mastery of form and technique, the dancers strive to nurture a goodness of character in their daily lives. The audience can feel the performers' heart and inner self through every movement and gesture.
After studying classical Chinese dance, not only did Zhou-Galati's dance skills greatly improve, but she also had more energy, became happier, and got straight A's at school.
Her mother also noticed the difference.
"My daughter became more gentle and polite," she said, adding, "I believe a person with a strong determination, who can endure hardship and be patient, who has a high moral character, such a person can succeed anywhere."
Letting Go of Self
Zhou-Galati eventually was enticed to pursue classical Chinese dance as a career. She tried her luck and applied at the Fei Tian Academy of the Arts.
The San Francisco-based academy is known for raising the world-renowned stars of the global touring company Shen Yun Performing Arts. Zhou-Galati was successfully admitted in 2007, and her journey as a professional dancer began.
Zhou-Galati constantly worked on every detail of each dance, perfecting her turns and twists, which she said are most difficult for her. She even took time to practice during intermissions and after long hours on stage.
Her hard work and dedication reaped rewards. In 2009, Zhou-Galati rose to the rank of principal dancer in one of Shen Yun's three travelling companies.
She said her favourite role is portraying a celestial maiden. "I like the gentle beauty and refinement expressed by the women's dances. The movements are very big and round, but soft, very appealing to the eyes."
In 2010, Zhou-Galati participated in the New Tang Dynasty Television International Dance Competition and took home gold.
Dancing with Shen Yun gave Zhou-Galati an even greater appreciation of how to let go of self. While personally doing her best, she said it was also important to encourage others and cooperate with others in her large dance group and with the live orchestra.
"Audiences always praise us for being unified and impeccable," she said.
"We can't do this with just a few lead dancers—it is something that all the performers must do together. Because we are of one heart, this is the uniqueness of Shen Yun. The strength of being one body is the greatest strength."
Treasuring Life's Opportunities
Zhou-Galati said that while her priority last year was technique, this year it is her inner nature—her moral character. In Chinese, this is called improving one's xinxing, or heart and mind nature.
"I have to continue to work on my xinxing, and then I will be able to do better in every dance. On the Shen Yun dance stage, we must put all our heart into our dancing in order for the audience to feel not only the dance but also receive the deeper meaning expressed in our dance," she said.
Her father, who was initially not very supportive of her chosen career, completely changed his attitude after seeing her accomplishments and the excellence of Shen Yun performances. He comes out to all the shows and tells people how proud he is of his daughter.
One year, Mr. Galati introduced Shen Yun to Tony Nardi, a two-time Best Actor winner at the Genie Awards, which honours the best in Canadian cinema.
"Isn't she so amazing, so regal? She floats in the air like Audrey Hepburn," Nardi told The Epoch Times after he saw Zhou-Galati in one of the shows.
Other than her intense, year-round training, touring, and performing on the world's most prestigious stages, Zhou-Galati is much like any other young lady; she likes the colour pink and enjoys eating sweet desserts. Her favourites are Belgian waffles and ice cream.
How does she stay so thin while maintaining such a carefree diet?
"I think I've already reached a balance. I believe that as long as I work very hard and do a lot of rigorous training, then I can eat whatever I want," she said.
As a lead dancer, thousands of eyes follow Zhou-Galati's every move, every sway of her handkerchief, and every sparkle of her headdress. It is a great deal of responsibility, but one that she cherishes.
"When a major opportunity of life comes, do not hesitate to grasp it and treasure it. Then you will never have any regrets. Always do your best, work hard, and never give up," Zhou-Galati said.