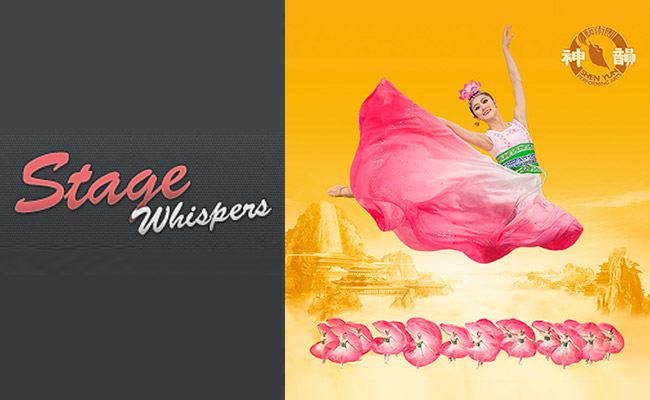 Shen Yun Reviews: Stage Whispers: 'Shen Yun'
CORAL DROUYN
Artistic Director D.F. Arts Centre Gold Coast. Jan 20th-21st, 2018. Perth: Jan 24-28. Canberra: Jan 31-Feb 1. Sydney: Feb 7-11. Bendigo: Feb 3-4. Adelaide: Feb 13.
There is something quite "other worldly", even magical, about Shen Yun as a production, that leads to a string of adjectives starting with E …exquisite, ethereal, excellent, esoteric, exciting.
Certainly the production blends high tech AV and CGI - credited to Ken-Chieh Hsu and his team - in a form of set design and digital animation that we have not seen before except on the big screen in the most expensive of movies. Coupled with this is the purity of performance - no gimmicks or tricks, just astonishing discipline and precision, alongside outstanding talent. Every hand moves as one, every turn, every arabesque is the same height. It's really quite breath-taking and many ballet companies would do well to study the discipline of Shen-Yun's dancers, along with their superb technique. Yet there's a naivety, an innocence and respect for the culture which is far removed from the glitz of most contemporary theatre.
It's this marriage of the super high tech present with the purity of ancient Chinese dance (which includes tumbling and acrobatics) that makes this a very special show.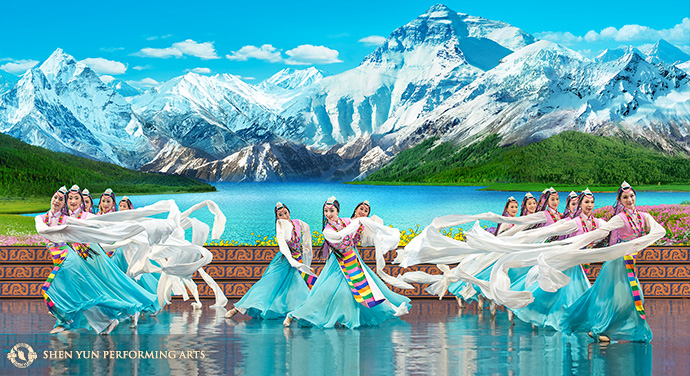 Visually, apart from dancers who literally appear to fly off stage and soar into the clouds or landscape behind them, only to fly back and land on stage again, the show is a delightful collage of fabrics and colour. The costumes are superb with wonderful colour combinations that remind one of mouth-watering sorbets – pistachio and pale lavender, hot orange and deep mint, colours that shouldn't work together – do.
The programme is a blend of historic classical dance in all its beauty, through whimsical and laugh out loud buffoonery, and even some political commentary on modern China itself (but don't be concerned, it's the relating of true story from a spiritual standpoint, not propaganda).
My favourite pieces include 'Han Dynasty Sleeves', choreographed by Michelle Ren in which the female dancers have incredible sleeves to their costumes, which work similarly to the "ribbon" in artistic gymnastics. To see the fluttering and waving of the long material - 12 dancers multiplied by 2 - in complete unison, is something of such beauty that you hardly dare to breathe. A similar piece is the exquisite 'Soaring Handkerchiefs', also choreographed by Ren with Yungchia Chen, where the dancers use simple cloth pieces to perform tricks that would confine all Frisbees to the rubbish bin once and for all.
The story telling includes 'The Marvellous Monkey Battles Warlock', which uses the AV to perfection, and the poignant 'Devotion', where love and commitment soar to spiritual heights. At the performance I attended, there were a few people weeping in the audience.
Principal dancers Jaling Chen, Daoyang Zheng, Alvin Song, ElsieShi, Victor Li, and the charismatic Monty Mou – who was actually born in Sydney, are all classically trained and superb technicians at their art. But as if the stage performers aren't enough, Shen Yun insists on touring a full orchestra which blends everything we'd hear in a western Symphony orchestra, plus the unique sound of ancient instruments carrying the melody of the all original score. Chia-Chi Lin conducts her musicians with great aplomb and Linda Wang's Erhu solo was wonderfully evocative and emotional.
There's so much to love about Shen Yun that it would be churlish to mention the elements that don't work quite as they should for a western audience. This is entertainment of the highest order and, though ticket prices are high (Shen Yun is a not-for-profit company), where else can you see a touring company of some 80 plus performers and musicians give their all in such an exemplary display of excellence?
The power of theatre never ceases to amaze me, and here, in a two hour performance, we get to experience a life affirming and life-changing experience.
It's an experience that will stay with you long after the final curtain.
"Stage Whispers" is a bi-monthly magazine covering the Performing Arts across Australia and New Zealand.
8. Únor 2018